Wizz Air launches Wizz Go
Wizz Air announced a new product in the airline's offering. "WIZZ Go" is an additional option to Wizz Air's existing "WIZZ Plus" (previously: "Plus Fare") bundle offer and introduces greater flexibility for passengers.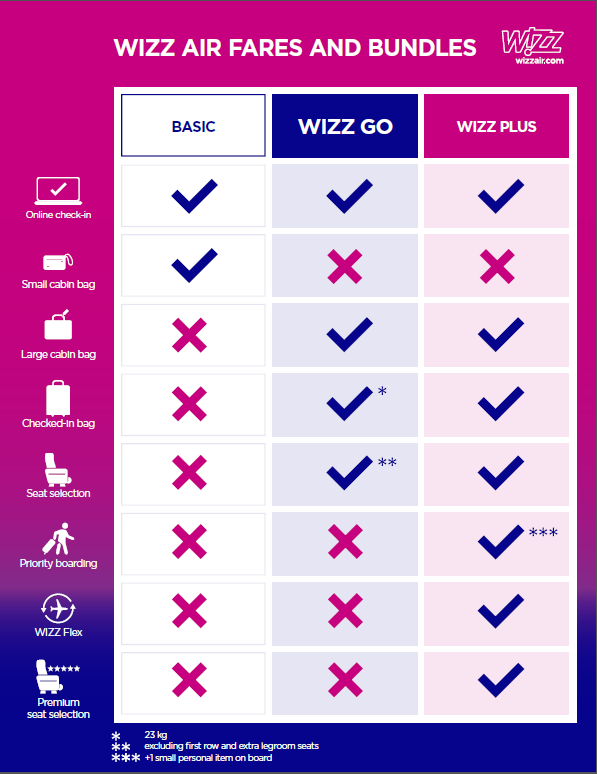 Both "WIZZ Go" and "WIZZ Plus" offer customers a discounted package price over the "Basic Fare" (flight ticket and a small cabin bag) and the sum of ancillary services if purchased separately, as well as a faster booking experience.
The new "WIZZ Go" is designed for savvy customers, who fancy low fares, excellent value offers and use the most popular WIZZ products and services. "WIZZ" Go includes a large cabin bag, a 23 kg checked-in bag and seat selection (excluding first row and extra legroom seats).
Wizz Air's "WIZZ Plus" offers even more additional services and benefits customers, who wish to enjoy great flexibility and maximum comfort during the entire journey: from booking the ticket online to arriving to the chosen destination. "WIZZ Plus" includes 32kg checked-in baggage, a large cabin bag, airport check-in, WIZZ Flex option for travel date changes, seat selection (including first row and extra legroom seats) and priority boarding services (also allowing an additional extra small personal item on board).
Starting today, WIZZ customers can book seats on all of the airline's more than 450 routes choosing "WIZZ Go" or "WIZZ Plus" on wizzair.com.
George Michalopoulos, Chief Commercial Officer of Wizz Air, said: "We designed WIZZ Go for our savvy customers who don't want to worry about choice of seat and luggage. This is a mid-way proposition that will appeal to many of our customers who need more than the basic fare, but do not want the full product offering included in WIZZ Plus. As we have customers with varied needs, we try our best to come up with product offerings that best accommodate them."