First Curio property opens in Boston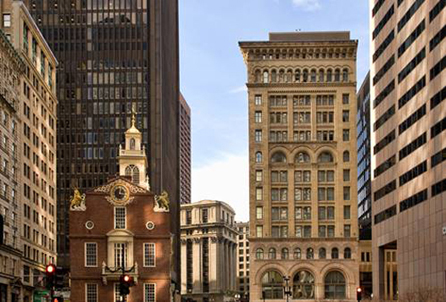 Hilton Worldwide today announced the signing of the historic Ames Boston Hotel to Curio – A Collection by HiltonTM. Curio's global set of distinctive upscale and luxury hotels is hand-picked for travelers seeking local discovery and authentic experiences. Ames Boston Hotel, Curio Collection by Hilton is slated to join the collection in July 2016.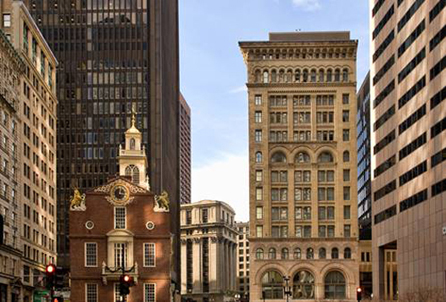 Constructed in 1893, the hotel resides in the iconic Ames Building, which held the title of Boston's tallest building until 1915 and is still widely referred to as Boston's "original skyscraper." Once erected, the building contained the headquarters of the Ames Shovel and Tool Co, founded by regarded industrialist and Massachusetts Congressman, Oakes Ames, and later housed the headquarters for other notable Bostonians, including former Mayor Thomas Menino. Owned by Ames Investor, LLC and managed by Gemstone Hotels & Resorts, the hotel is slated to undergo a multi-million dollar renovation over several months, which will include exciting changes to the lobby, on-site restaurant, meeting and event spaces, and guest rooms.
"We are excited to partner with the great teams at Ames Hotel Investor, LLC and Gemstone Hotels & Resorts to bring Curio Collection to Downton Boston and become a part of the Ames Building's rich 133-year history," said Matt Wehling, Senior Vice President, Development – North America, Hilton Worldwide. "The Ames Boston Hotel will be a wonderful addition to the collection, providing a dynamic mix of authentic Boston history and innovative features."
Named to the National Register of Historic Places, the Ames Boston Hotel is located just steps away from the Freedom Trail and is uniquely situated near many of Boston's most beloved landmarks, including the Old State House, Faneuil Hall and Beacon Hill. Its historical significance spans beyond the city's limits, as the hotel is currently the world's tallest masonry load bearing-wall structure.
"We're thrilled to bring the next chapter in the Ames Boston Hotel's book to life by partnering with Hilton Worldwide," said Scott Grigelevich, Director of Sales & Marketing for Ames Boston Hotel. "Together, we will be able to offer travelers a unique experience – truly reflective of Boston – that combines rich history and distinctive lifestyle amenities with unparalleled hospitality."
The Ames Building underwent extensive renovations in 2007 to create the luxury boutique hotel featuring lodging and conference facilities, which opened in 2009. Today, the 114-room Ames Boston Hotel merges the past, present and future, offering a blend of modern style and old-world sophistication in the form of Romanesque arched windows, decorative fireplaces, an original tiled mosaic ceiling and marble staircase, complemented by inventive design interpretations.
Just two miles from Boston's Logan International Airport, the 15-story hotel offers views over the city's downtown Financial District and nearby attractions, including Boston Common, the Waterfront, North End and the Rose Fitzgerald Kennedy Greenway.
"This is our first Curio hotel not only in Boston, but in Massachusetts, and we've made sure that we chose a hotel that combines modern-day elegance with old world charm to truly represent the area," said Dianna Vaughan, Senior Vice President and Global Head, Curio – A Collection by Hilton and DoubleTree by Hilton. "Boston is one of the most vibrant and innovative cities in the country, and the Ames Boston Hotel offers travelers an opportunity to immerse themselves in its rich history and tradition."