United Airlines leadership team flies together to fight hunger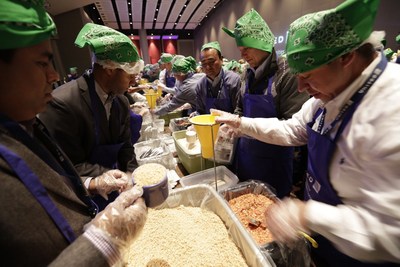 Today, more than 700 United Airlines leaders from around the world – including Chief Executive Officer Oscar Munoz – kicked off the company's two-day 2017 Global Leadership Conference in Chicago by packing more than a quarter of a million meals for children suffering from malnutrition in El Salvador.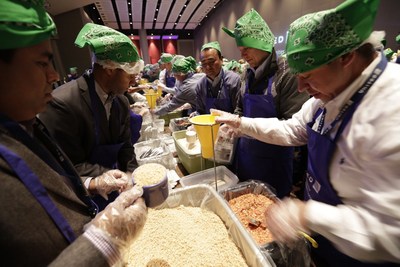 "Every day we help unite the world and today hundreds of our leaders came together to fight one of humanity's gravest issues – starvation," said Munoz. "This morning we showed that United's shared purpose not only connects people around the world but makes a life-changing difference in the communities we serve. Businesses can be successful and have a heart."
United partnered with Rise Against Hunger (formerly Stop Hunger Now) – which focuses on ending hunger by providing food and life-changing aid to the world's most vulnerable communities. The three-hour event – which packaged 285,120 meals – represents Rise Against Hunger's largest food-packing event ever held in Chicago. The meals created will help feed nearly 3,000 children in El Salvador for an entire year.
"We're pleased to be partnering with United Airlines for the first time to help end world hunger and poverty," says Rod Brooks, President and CEO of Rise Against Hunger. "Our vision is to make a difference through initiatives that will provide relief to those facing immediate food insecurity and offer opportunities for children and families to become educated, healthy and self-sufficient. When hunger is targeted, you give leverage and hope to every other cause including disease and the welfare of women and children."
United's leaders from 14 countries across five continents worked hand-in-hand with senior executives for the first half-day of the conference at Chicago's McCormick Place Convention Center to package meals as part of the team-building service project. Approximately 1,600 meals were packaged per minute, resulting in 43,560 pounds of food.
United Airlines' 2017 Global Leadership Conference – themed "The New Spirit of United" – has assembled the company's worldwide management group to meet with Munoz and the senior executive team to learn more about the strategic plan the company put into action last fall to build the best airline in the world for its employees, customers and everyone it serves. The conference also includes a number of leadership development and team-building programs as part of the agenda.