The Festival d'Automne à Paris (Paris Autumn Festival) is a festival of contemporary arts, embracing and combining different art forms. The Festival presents works that stand as references, involving approaches of an experimental nature by, inter alia, commissioning artists to create original works. Every year, from September to December, the Festival features over fifty events attracting a total audience of more than 100 000.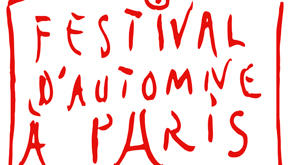 The Festival d'Automne à Paris was founded in 1972 by Michel Guy, with support from President of the French Republic, Georges Pompidou. Following the death of Michel Guy in 1990 and Alain Crombecque in 2009, Emmanuel Demarcy-Mota became in 2011 the Director of the Festival with Marie Collin and Joséphine Markovits as artistic directors. Afer Janine Alexandre-Debray, André Bénard and Pierre Richard, Sylvie Hubac is Chairman of the Board of the Festival, and Pierre Bergé is Chairman of the Board of "Les Amis du Festival d'Automne à Paris".
The Paris Autumn Festival brings together theater, music, dance, the visual arts and film from September through December. There are over 50 events to check out. And this year, the festival will feature director Suzuki Matsuo, the composer Irvine Arditti and choreographer Jérôme Bel.