Sony and Eurostar launch first ever 'Sound Menu'
Sony and Eurostar have partnered to offer passengers the most relaxing journey yet, courtesy of the new 'Sound Menu', optimised for use with Sony's 1000X wireless headphones with industry leading noise cancelling technology.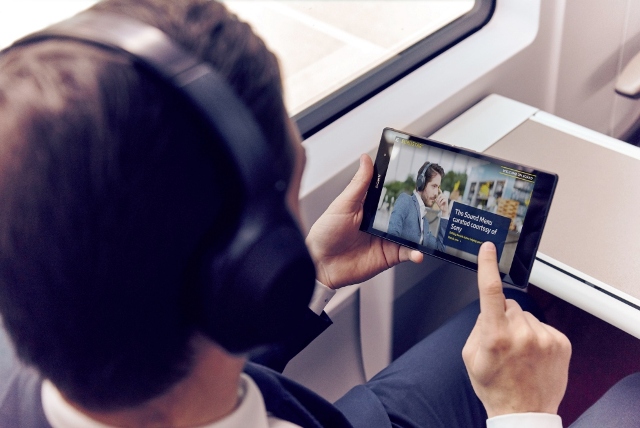 The partnership has been developed following UK research that looked into the music listening habits of business and lifestyle travellers. Over a quarter (27%) of travellers state they can never fully relax on a journey and 23% complain that they are unable to 'switch off' ahead of important meetings.
39% of travellers blamed the noise made by other travellers as being one of the biggest stress factors with 66% highlighting that music helps them relax; there has never been a better time to offer this bespoke service.
The Sony Sound Menu, on trial for a month initially, has been developed in partnership with Senior Lecturer in Music Psychology at Keele University, Dr Alexandra Lamont, who has drawn on a number of studies conducted on music and mood regulation to recommend five playlists to help travelers prepare, relax and focus on route to their destination.
The playlists include varying styles and tempos of music to evoke different emotions;
Getting the job done: helping you focus on work – music which has fast high medium-high levels of sound, not too much pitch variability, and motivating but unobtrusive patterns has been recommended to keep focused and limit procrastination
Psyching up for a long day: giving you a bit of a boost – fast tempo, high pitch, building rhythms, rising melodic contours serve as inspiration for the day ahead
Being in the moment: music to calm and centre you – slow beats with simple textures, scenic and inspirational music and sounds with gentle rhythms and slow tempos, mixed in with some sounds of nature are perfect to help provide a moment of focus
Getting from A to B: simply enjoying the journey – to relax and enjoy the ride, expansive music with some movement behind it that will help the miles whizz by
A job well done: relaxing after a busy day – What better way to unwind at the end of a busy day than to calming music that takes some of the energy out of the journey and takes you to a calmer place, with slow beats and relaxing tracks
The Sony Sound Menu will be available on Eurostar's onboard entertainment system on all e320 and e300 trains from Thursday 27th April for one month.