Sabre introduces SafePoint
SafePoint provides peace of mind for corporations by bringing risk management to the traveler. It provides visibility into the travelers' entire trip, best in class global intelligence provided by iJET International, and the ability for travelers to stay aware and easily get assistance.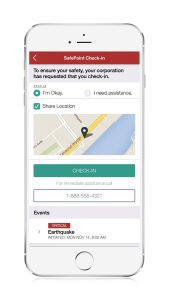 The growing priority of employers being able to monitor world events and account for the safety and location of their employees who are traveling will now be easier and more effective with the roll-out of SafePoint, a new mobile duty of care solution that travel technology leader Sabre Corporation unveiled today at the GBTA Convention 2016.
SafePoint automatically monitors all of the corporation's trips. For travelers using TripCase, SafePoint will monitor a traveler's entire itinerary, not just PNR segments. This includes out of program bookings and other trip components. TripCase allows the traveler to check-in with their corporation and provide GPS location while also having easy access to their emergency assistance hotline. For travel managers, risk management teams and security advisors an intuitive dashboard allows them to view events impacting their travelers in a consumer grade user experience across desktop, tablet and mobile devices.
Sabre has selected iJET International, the leader in travel risk management, as the exclusive provider of travel and security intelligence to SafePoint. In the event of an incident or disrupted travel, iJET's best-in-class travel intelligence will feed into SafePoint which will automatically notify impacted travelers via the TripCase mobile app, SMS, email and push notifications.
"Corporations today are challenged with providing a duty of care solution for their traveling employees in the time of a crisis, and many business travelers are unaware of their company's available resources if something should happen while traveling," said Clinton Anderson, senior vice president – corporate strategy and traveler experience for Sabre. "We know that travelers are more likely to stay connected in times of crisis with an app that helps them across the trip life cycle including travel risk management.  With SafePoint, travelers don't need to download another app as alerts, check-in and emergency assistance are integrated into TripCase."
"Sabre's SafePoint solution not only puts the most critical travel intelligence into the palms of the traveler's hands, but takes the additional step of providing automated, proactive trip monitoring," said Theresa Thomas, senior vice president Powered by iJET. "In the current environment of evolving global events, knowing that you have an additional set of eyes looking out for your travelers' well-being can go a long way to helping to ensure your travelers' safety and security."
The safety tracking capabilities of SafePoint are integrated in TripCase as a single solution to access and manage all trip-based data, and travelers don't need to download a separate app out of corporate policy.