Qantas and Heathrow bring Australia Day sunshine to London with pop-up beach
To celebrate Australia Day 2017 and bring some Aussie sunshine to London, Qantas and Heathrow have installed a pop-up beach at the airport's Terminal 3 forecourt today.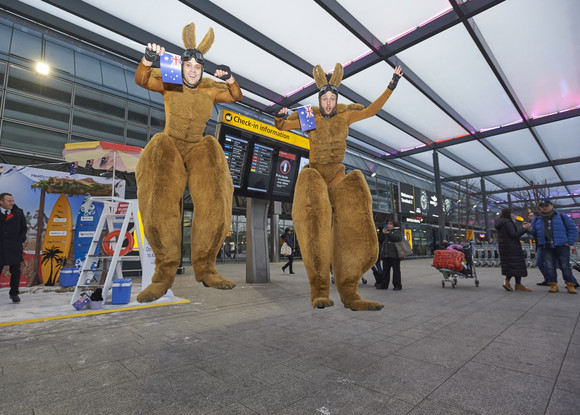 The event celebrates the Australian national holiday and Heathrow's successful partnership with Qantas as part of the airport's 70th birthday celebration campaign. Travellers visiting the stand will experience a taste of Australia, including sweet treats and entertainment by a live acoustic band playing classic Aussie songs by Kylie Minogue and INXS.
Qantas' collaboration with Heathrow around their 70th birthday celebrations launched in May 2016, with a competition to win one of 35 pairs of Qantas flights for 'The Ultimate Trip' to Sydney. Travellers submitted their favourite Heathrow memory and the 70 winners will fly out this May to experience Sydney's VIVID festival. Some of the competition winners are joining Qantas' Australia Day celebrations at Heathrow to share their heartwarming stories.
One of the lucky winners, Kelly Jones, who hopes to meet her childhood Australian pen pal on her winning trip said: 'I am very excited to finally meet a close friend that I have kept in touch with for 23 years – sharing stories of wedding days, new babies and the ups and downs of life. Heathrow will no doubt play a huge part in this very special day, and it will be a memory I cherish forever'.
Markus Svensson, Qantas Regional General Manager UK, Europe, Middle East and Africa said the pop-up also celebrates the exciting new era for Qantas in the UK, including its new non-stop London to Perth flights.
"Australia Day is all about celebrating the best of Australia, no matter where you are in the world. When London to Perth flights launch next year, UK travellers will be able to experience Australia firsthand with our non-stop services. But today, Qantas and Heathrow are bringing the Aussie summer to them."
Jonathan Coen, Heathrow's Customer Services Director said: "We are delighted to give passengers a 'warm' Aussie welcome to Terminal 3 on this chilly January day. We have had a fantastic year working with Qantas celebrating our birthday and hearing all the exciting stories from passengers travelling with us. Here's to the next 70 years of stories."
Qantas has been flying to Heathrow for nearly 70 years, and Heathrow was also the departing location when Qantas set the record in 1989 for the world's longest non-commercial flight. The Qantas 747-438 flew 18,001 kms, non-stop between London and Sydney, in 20 hours, nine minutes and five seconds.
– See more at: http://mediacentre.heathrow.com/pressrelease/details/81/Brand-News-22/8182#sthash.lI9tRwVh.dpuf