International Airport "Zaporizhia" resumed its work
Since May 10, the main runway of Zaporizhia International Airport has resumed its work, which was closed for repairs for more than a month.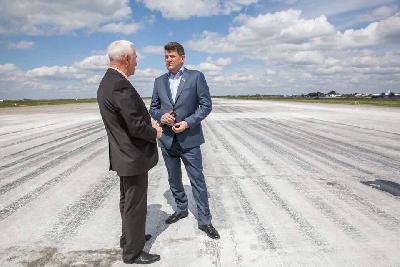 The main runway of the International Airport "Zaporozhye" was not seriously repaired since 1982 and was in great need of repair. The runway of the international airport "Zaporizhia" was closed for repairs on March 26, 2017. The renovations will extend the lifetime of the runway for another 2 – 3 years.
"The repair will allow us to extend the period of safe operation of the runway for a minimum of two years. I hope that during this time, the practical implementation of the State Program for the Development of Airports of Ukraine will begin. Then we can start reconstruction of the runway at the expense of co-financing the project from the state and municipal budgets, " said the mayor Vladimir Buriak.
Plans for the reconstruction of the runway include its expansion and extension from two and a half to three kilometers. However, the cost of such works is from 350 to 600 million UAH. Today, there are no such funds in the city budget, therefore Zaporizhia counts on the state aid in this matter.