Hilton grows New England presence
DoubleTree by Hilton is broadening its growing presence in New England with the opening of DoubleTree by Hilton Boston Andover. The five-story, 293-room upscale hotel – located off of Interstate 93 and near the New Hampshire border – offers convenient access to historic New England villages, Atlantic Ocean beaches and the allures of greater Boston. Formerly a Wyndham property, it is owned and managed by Linchris Hotel Corporation – which also recently opened the DoubleTree by Hilton Boston-Rockland, located south of Boston.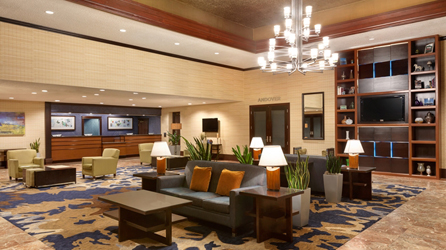 Just 30 miles from both Logan International Airport in Boston and Manchester-Boston Regional Airport in southern New Hampshire, DoubleTree by Hilton Boston Andover is ideally situated for travelers visiting the many businesses and colleges in the area, as well as the numerous sports venues and historic landmarks throughout metropolitan Boston.
"Visitors to this bustling area north of Boston and south of New Hampshire are drawn to its vast array of businesses and leisure pursuits, and our upscale, full-service hotel can meet their every need," said Dianna Vaughan, senior vice president and global head, DoubleTree by Hilton and Curio – A Collection by Hilton. "We are pleased to be broadening our presence in New England and to deliver travelers in the Boston area the award-winning service at every touch point that our brand is recognized for worldwide."
Each stay at DoubleTree by Hilton Boston Andover begins with a warm DoubleTree chocolate chip cookie greeting, which signifies the brand's industry-recognized service culture built around the idea of CARE, which stands for Create a Rewarding Experience for guests, Team Members and the community.
The modern brick structure has undergone an extensive, multi-million dollar renovation, with many design features inspired by the nearby Merrimack River and other natural settings in this picturesque region. The hotel's spacious guest rooms and suites feature the DoubleTree Sweet Dreams Sleep Experience, and all rooms with king beds come with a sleeper sofa. Amenities include a 50-inch HDTV, mini-refrigerator, Cuisinart® coffeemaker, clock radio with MP3 outlet, and laptop-sized safe. Complimentary Wi-Fi is offered in each guest room and suite, as well as in public areas.
Guests may select from a wealth of dining options. 189 Prime, a full-service restaurant on the lobby level, blends the style and comfort of a traditional steakhouse with a warm and unpretentious atmosphere. Featuring prime steaks, fresh local seafood and locally sourced greens and organic produce, 189 Prime serves many dishes with a New England flair, such as its Native Maine Lobster Risotto.
Adjacent to the restaurant is the 189 Prime Lobby Bar, a great place to mix and mingle while enjoying cocktails and light fare with al fresco dining available in season. Characters Bar and Grill is a lively pub, with billiards, darts and multi-screen television complementing a menu of burgers, sandwiches, salads and draft beer. In-room dining is also available from 6:30 a.m. to 11:00 p.m.
Other amenities include a 24-hour fitness center featuring new Life Fitness equipment, a heated indoor pool and hot tub, and computer station.
Receptions for up to 800 guests and banquets serving as many as 560 are offered in the hotel's conference facilities, which feature 7,128 square feet of meeting and event space. Business meetings and other gatherings may take place in nine meeting rooms, with a state-of-the-art sound system and A/V equipment available.
For smaller groups, the hotel offers the Meetings SimplifiedTM by DoubleTree by Hilton package from $23 per person, which includes a meeting room; basic meeting Wi-Fi; meeting room supplies including a flipchart, markers, extension and power cord; and all day non-alcoholic beverage service. Catering services and a dedicated events staff are available to enhance any event.
In addition to the iconic warm chocolate chip cookie welcome, the hotel provides guests with a full complement of services and DoubleTree by Hilton brand amenities, including the Wake Up DoubleTree Breakfast, an assortment of gourmet in-room tea and coffee offerings by The Coffee Bean & Tea Leaf, and a refreshing array of the Aroma Actives Essentials natural skin and body care line.
"Transformed by its multi-million dollar renovation, the DoubleTree by Hilton Boston Andover is poised to become a sought-after destination for all who travel to this part of New England," said Steve Gordon, general manager, DoubleTree by Hilton Boston Andover. "Our staff looks forward to welcoming guests to this beautiful new hotel and delighting them with first-rate DoubleTree by Hilton services and experiences."