Hilton expands presence in Morocco
Hilton Worldwide has signed a management agreement with Société d'Aménagement et de Promotion de la Station de Taghazout (SAPST) to open a 170 guestroom hotel within the Taghazout Bay Resort located 10 miles (17 kilometers) north of the Moroccan coastal town of Agadir. Hilton Taghazout Bay Beach Resort & Spa is set to open in 2018 and will join three Hilton Worldwide hotels currently operating or under development in Morocco.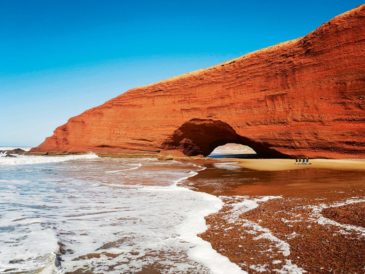 Hilton Taghazout Bay Beach Resort & Spa is part of Morocco's new sustainable Taghazout Bay Resort complex, which is set in the peaceful foothills of the Atlas Mountains and overlooks the stunning Atlantic coastline. Guests to the hotel will have access to a range of activities at the Taghazout Bay Resort complex, including the on-site surf camp, tennis club and golf academy at the beautiful 18-hole golf course designed by architect Kyle Philips, as well as hiking and mountain biking. The resort is located only 40 minutes from Agadir International Airport.
"Tourist arrivals in Morocco have more than doubled since 2000, and as the market continues to mature there is opportunity for Hilton to grow in locations across the country," said Patrick Fitzgibbon, senior vice president, development, EMEA, Hilton Worldwide. "Hilton Taghazout Bay Beach Resort & Spa, alongside the recently opened Hilton Garden Inn Tanger City Centre, supports our wider growth strategy in North Africa. This spectacular new development will contribute to the Moroccan Government's ambitions to establish Morocco as one of the top 20 tourist destinations in the world."
A progressive open-skies agreement with Europe has removed the limit on EU flights to Moroccan airports. As a result there are a significant number of flight routes from key source markets including Germany, France and Spain, whose tourists increasingly flock to Taghazout Bay Resort for its peaceful beaches and striking mountainous scenery.
Hilton Taghazout Bay Beach Resort & Spa joins two Hilton Worldwide properties currently under development in Morocco. Hilton Tanger City Centre Hotel & Residences and Hilton Tangier Al Houara Resort & Spa are both set to open in 2017.
"Hilton Taghazout Bay Beach Resort & Spa takes us one hotel away from 50 Hilton Hotels and Resorts trading or under development across Africa," said Jim Holthouser, executive vice president, global brands, Hilton Worldwide. "The brand has seen exceptional success across the continent since our longest trading hotel Hilton Addis Ababa first opened in 1969."
Ahmed Oulahna, SAPST CEO, said, "It is with great excitement that we partner with a global brand as prestigious as Hilton. Hilton Taghazout Bay Beach Resort & Spa is an essential component of the Taghazout Bay Resort, promising pleasant stays rich in emotions."
The property will have stylish and spacious outdoor pool areas that overlook the bay's curving beach, with direct access to the shore for guests of the hotel. In addition to its fully serviced spa the hotel will include two signature restaurants and a bar. For corporate travellers the hotel will include a ballroom suitable for up to 500 delegates and four meetings rooms.
Hilton Taghazout Bay Beach Resort & Spa will be located at Station Touristique de Taghazout Bay, route d'Essaouira, Agadir, 80000, Morocco.