Cessna delivers Citation CJ3+ to fractional operator AirSprint Inc. in Canada
Cessna Aircraft Company, a subsidiary of Textron Aviation Inc., a Textron Inc. (NYSE:TXT) company, this week delivered a Canadian registered Cessna Citation CJ3+ aircraft to fractional operator AirSprint Inc..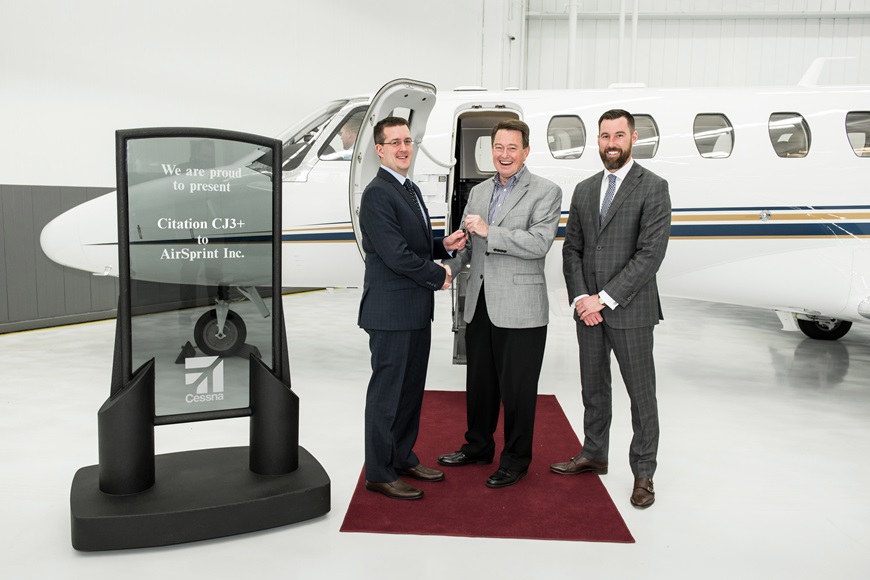 "With more than 150 Cessna Citation light jets in the region, the CJ-series has proven to be the light jet of choice for Canadian operators, and we are confident the CJ3+ will be an ideal addition to the AirSprint fleet," said Kriya Shortt, senior vice president, Sales & Marketing. "The combination of short field capability, excellent range, and low operating costs coupled with the next generation Garmin 3000 flight deck, are key features that make the CJ3+ perfectly suited for our customers like AirSprint."
AirSprint operates the largest fractional fleet of private aircraft in Canada, offering the Cessna Citation XL/XLS, Citation CJ2+ and Citation CJ3+. The company serves owners coast-to-coast including in Vancouver, Calgary, Edmonton, Winnipeg, Toronto, Ottawa, Montreal and the Maritimes.
"The Citation CJ3+ is a natural extension for our fleet of Citation CJ2+ aircraft," said James Elian, president and COO of AirSprint. "Our fractional owners enjoy the efficiency and comfort of the CJ2+, and with the extra range of the CJ3+, the new addition will be the ideal aircraft to efficiently experience AirSprint's personalized service while travelling non-stop to more North American destinations. We are really excited to add such a capable aircraft to our fleet."