Today WOW air, Iceland's ultra-low cost transatlantic airline, announced it is offering $99 one-way fares to seven European cities, including Amsterdam, Brussels, Frankfurt, Dublin, Edinburgh, Stockholm, and Copenhagen from Boston, Washington, D.C., New York, Pittsburgh and Chicago. In addition, travelers from Los Angeles and San Francisco can fly to those same European destinations for as low as $119 one-way.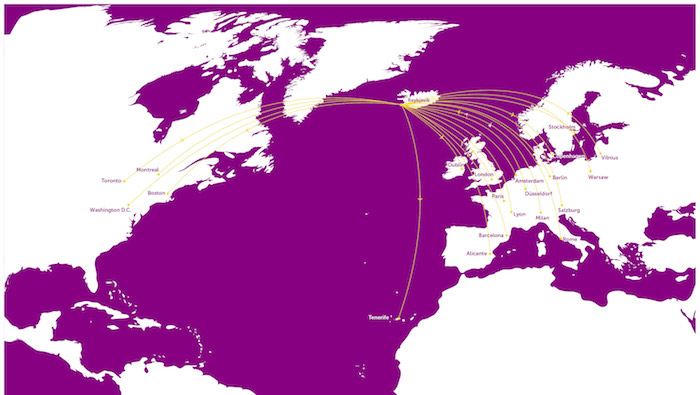 For a limited time, $99* tickets will be available from Boston (BOS), Washington, D.C. (BWI), New York (EWR), Pittsburgh (PIT), and Chicago (ORD) to Amsterdam (AMS), Brussels (BRU), Frankfurt (FRA), Dublin (DUB), Edinburgh (EDI), Stockholm (ARN), and Copenhagen (CPH), via Iceland (KEF). Tickets offered from Los Angeles (LAX) and San Francisco (SFO) to the aforementioned destinations will be available for $119*.
Fares go on sale today and can be purchased at www.wowair.us. The reduced one-way fares will be offered for flights departing November through December 13, 2017.
The months of November and December bring some of the world's most storied Christmas markets to Europe. Visitors get the opportunity to experience the sense of community and holiday spirit these open-air markets have to offer, as well as unparalleled shopping and endless options for seasonal food and drink. The Winter Wonders event in Brussels is one of the most sought-after stops by visitors. From November 24-December 31, the event features a Christmas Market with over 200 chalets, a Ferris wheel, merry-go-rounds, an ice rink, and a sound and light show on the Grand-Place. Stalls often sell a collection of handcrafted goods, food, and mulled wine.
As an additional bonus, with the WOW air Stopover option in Reykjavik, travelers also get the chance to stay in Iceland and possibly view the Northern Lights, which are typically visible during the fall and winter months.
Launched in November 2011, WOW air now connects 38 destinations across the U.S. and Europe with the Icelandic capital. In 2016 WOW air flew with 1,668,773 passengers in total, which is an increase of 130% from 2015.