United Airlines ranks among the top performers on the Human Rights Campaign's Corporate Equality Index for LGBT equality
Authenticity and inclusion are at the heart of United Airlines' culture, helping shape how the company engages with its customers and the workplace it strives to cultivate. And it's those ideals that have helped earn the company its sixth consecutive perfect 100 percent score on the Human Rights Campaign's Corporate Equality Index (CEI) and a spot on the organization's list of "Best Places to Work for LGBT Equality."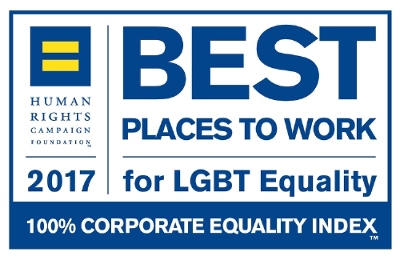 After joining United in 2012, Sara McCook quickly recognized and relished the impact of that inclusivity and openness on her own life: "For the most part, right out of college I was open about my sexuality to my friends and family, but I never fully embraced it in the workplace because I always felt that it would be considered a roadblock to my career – that changed when I joined United. The leadership team where I started, in Denver, and ultimately throughout the company, made it immediately known that this is a place where people are encouraged to bring their true, authentic self and that was very liberating."
Sara's story, like those of many of United's LGBT employees, is one of acceptance, something that she credits not only to United's policies of equal rights and benefits, but also to the attitudes of the company's management and employees. "We have amazing diversity and an inclusive culture here," she said. "Diversity is inviting someone to the party, but inclusivity is asking someone to dance – sure, we have the policies and the benefits in place, but United is constantly 'encouraging us to dance,' and that's how we separate ourselves as an organization."
Supporting LGBT Employees
Fully inclusive equal employment, workplace benefits and non-discrimination policies are core to United's Working Together culture. The airline offers several programs that promote LGBT inclusion and awareness. It sponsors an LGBT-focused business resource group, EQUAL, which provides ongoing networking, advocacy and outreach opportunities for its members, and consults with senior leadership on issues of equality. Today, EQUAL is one of United's fastest-growing resource groups, with over 1,200 employee members.
After the CEI results were announced, United's executive vice president of human resources and labor relations Mike Bonds said: "We are extremely proud that we have a culture here at United that is inclusive of all employees, and we look to continue to be at the forefront in supporting equal rights for the LGBT community. The Human Rights Campaign's recognition serves as powerful validation that we're moving in the right direction."
Over the past year, United employees and leaders participated in Pride Parades in several cities around the U.S., including Chicago, San Francisco, Denver, Houston, New York City and Washington D.C., and employees companywide took a stand against bullying in support of LGBTQ youth during October's Spirit Day campaign.