Thomas Cook Airlines expands in the U.S. and Europe
Thomas Cook Airlines announces a new direct flight from San Francisco to Manchester beginning on May 14th.|
It's the seventh direct U.S. connection to Manchester and the fourth in three years with connections to 24 of Europe's most popular destinations. Fares are available on this award-winning airline starting from $279.99 (one-way). The leisure airline, part of Thomas Cook Group Airlines, also announces its new summer schedule from seven gateways in the United States. All flights are operated with an Airbus A330-200 aircraft. The new, expanded U.S. route network represents Thomas Cook's continued strategy to expand its successful long-haul offering and become the preferred carrier from the U.S. to the North of England. The carrier also offers easy connections in Manchester to more than 20 cities throughout Europe.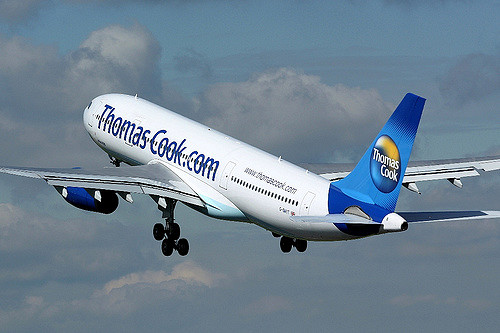 "This is an exciting time for Thomas Cook Group Airlines as we grow our U.S. footprint with expanded service from gateways across the country," said Christoph Debus, Chief Airlines Officer, Thomas Cook Group. "We work closely with partner airlines, allowing us to connect to 90 destinations within the USA, as well as to fantastic European cities like Paris, Amsterdam and Milan, allowing us to offer more destinations than ever before."
All tickets include a minimum of 50 pounds checked luggage and 13 pounds of cabin luggage, as well as meals. Inflight entertainment is available on seat-back screens, with a choice of free or paid-for content, featuring more than 30 movies and 50 TV shows.
Thomas Cook Group Airlines has seen a surge in flights and holidays to and from North America. Passenger numbers from North America to Europe have more than doubled during the past three years.
The U.K.-based carrier currently serves the U.S. from Boston, Las Vegas, Los Angeles, Miami, New York and Orlando. Tickets are available from $279.99 (one-way). Sister airline, Condor, has also expanded its direct flights from the U.S. to Germany and to more than 230 global destinations beyond from gateways in Anchorage, Austin, Baltimore, Fairbanks, Las Vegas, Minneapolis, New Orleans, Portland, Pittsburgh, San Diego and Seattle.