Swissotel introduces The Vitality Room
Swiss innovation, a contemporary aesthetic and a feeling of vitality are qualities that define the Swissotel Hotels & Resorts brand, along with an ethos of helping guests "live it well". Today, the brand is launching a trendsetting new concept, The Vitality Room, where guests can revitalise body, mind and soul. Swissotel has partnered with Wallpaper* magazine to showcase the first dedicated Vitality Room at Swissotel Zurich.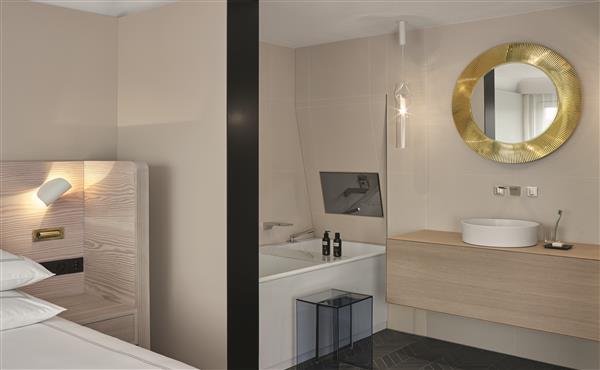 The new Vitality Room, a serene and stylish sanctuary, with bespoke wellness features to help guests maintain their mental and physical health while away from home, builds on Swissotel's exceptionally well-received Vitality Programme, an integrated approach to supporting guests by focusing on their general well-being and quality of life. The Swissotel Vitality Room was created in collaboration with a number of like-minded partners, including Vitra, Laufen, Dornbracht, Lasvit, NOHrD, Dinesen, Philips, iQAir, Interel and Krebs. The partners all share a commitment to sustainability, luxury, craftsmanship and functionality in design with the intention of creating a contemporary, private space to promote and foster quality time.
"Feeling vital is a prerequisite to enjoying quality of life, and one of the key pillars of the Swissotel experience. Our new Vitality Room, which seamlessly addresses many aspects of health and wellbeing, is literally the living embodiment of our brand's values," said Lilian Roten, vice president, Swissotel Hotels & Resorts.
The room's interior space was designed by Wallpaper's acclaimed Composed team, who are responsible for the magazine's award-winning interior shoots. Highlighting key elements that define "wellness", the room offers a clean, calm material palette, soothing black-out blinds, discreet technology and dedicated space for exercise and relaxation. The conventional hotel room layout has been reconfigured to optimise views and improve functionality, with many features, such as lighting, being modifiable to suit individual guest preferences. Overall, the effect is a serene, refined, and minimalist space.
Many amenities and features were exclusively developed for the Vitality Room, including the "Wellbeing Wall" where guests have a choice of three training modules. Space efficient and compact, it features simple, self-explanatory equipment, as well as a cyber-trainer, offering guests a productive, personalised workout within the privacy of their guestroom. For rehydration and replenishment, a refreshment centre offers engergising Vitality snacks and drinks, made with fruits and superfoods, often with a local twist.
Bespoke bath and shower features allow guests to adapt their experience through gently-coloured lighting and scent options or various water pressures that alternately soothe or revitalise. Furniture includes tables with adjustable heights and a variety of seating options and monochromatic GrandDouglas Classic wood brings a natural tactile experience and a sculptural look to the room, while a high-performance air purification system is beneficial for all guests, particularly those who are exercising. And, in a first for the hotel industry, circadian light features allow light colour to change, influencing the secretion of melatonin in the brain, helping travellers overcome jet-lag or lack of sunlight.