Starbucks offers newspaper to its regulars
Previously, when customers bought a coffee, they earned one star and become a member of the Starbucks loyalty programme. This meant that those who had been members longer than 30 days would receive a free coffee on their birthday (Welcome level). After five purchases, members would receive little gifts (green level). And after 30 purchases within twelve months (an easy enough feat for a caffeine addict), members could enjoy a free drink of their choice.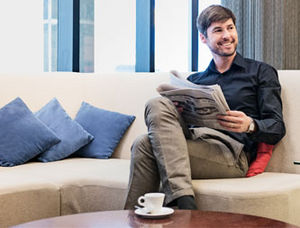 In order to stay at this "Gold" membership level you were only required to buy something from Starbucks 12 times per year. The unique – or strange – nature of this programme was to count the frequency of purchases rather than the volume. This allowed clients to buy a coffee, before returning for a muffin and then a yogurt, in order to accumulate three times the amount of points as when buying them all at once.
Going even further
This programme having proven successful, the brand decided to innovate once again. Well-known for offering free Wi-Fi in all its establishments, the company decided to offer a digital copy of the New York Times to all its customers. Heralding the end of the era of cafés with one copy of a newspaper for all customers to read, Starbucks was now offering high quality content accessible to everyone at the same time via a smartphone app. Starbucks thus improved the quality of their customer experience (and perhaps made the customer more likely to buy another coffee) while the New York Times saw its audience grow and could even take the opportunity to gain some new customers.
Music and news with your coffee
This collaboration with the world's best known newspaper began in 2013. At the time, the coffee chain offered its customers access to various digital media sources, as well as the chance to win free subscriptions. In the same spirit, a partnership was launched with Spotify, the music streaming service, which was played in the coffee shops. A major advantage for the chain's 150,000 employees who each received a Spotify Premium account (worth around $10/month) which they could use to choose the music that was played in the café. And to bring it all full circle, Spotify users could gain loyalty points which earned them free drinks. Cafés have always been living spaces in which we sometimes spend a long – and enjoyable – moment,  lingering over a multi-sensory experience. Eating, drinking, taking a break, but also catching up on news, working, listening to music and chatting. The richer the experience, the more likely we are to come back.
Experiences to enjoy time and again
Hotels and restaurants are no exception to this rule: since a while ago they are no longer just places to sleep and eat. AccorHotels establishments worldwide, for example, now offer experiences that are more complete and extensive. From April, Le Club AccorHotels loyalty programme is set to surprise you, with privileged access to some very unusual offers, thanks to equally surprising new partnerships. Using innovation, originality and by deploying new services beyond their traditional brand territory, some companies have proven they can reinvent themselves in order to increase customer loyalty. Offering something other than their own products helps them maintain a lasting relationship with their clients. This is the key to offering a richer and more engaging experience.