Kiev ranks 174th place for quality of living
Despite increased political and financial volatility in Europe, many of its cities offer the world's highest quality of living and remain attractive destinations for expanding business operations and sending expatriates on assignment, according to Mercer's 19th annual Quality of Living survey. City infrastructure, ranked separately this year, plays an important role when multinationals decide where to establish locations abroad and send expatriate workers. Easy access to transportation, reliable electricity, and drinkable water are all important considerations when determining hardship allowances based on differences between a given assignee's home and host locations.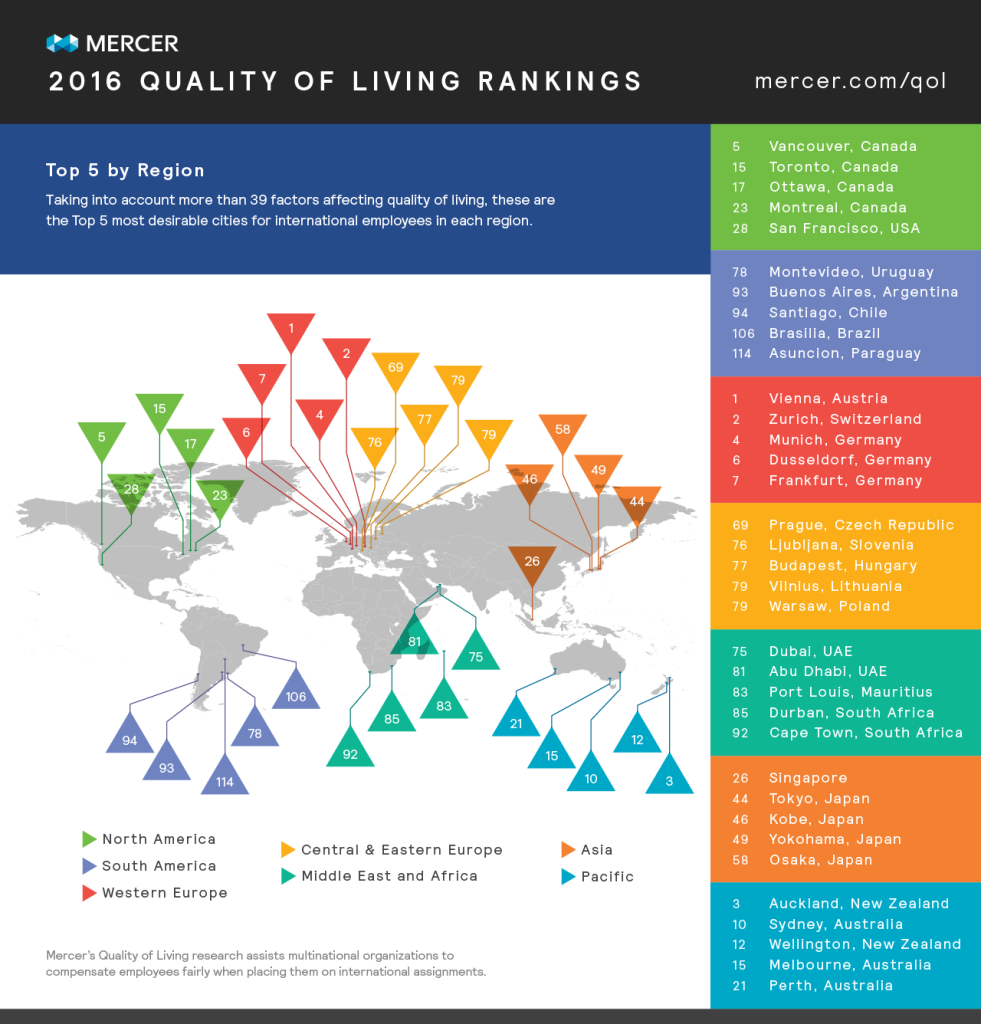 Vienna occupies first place for overall quality of living for the 8th year running, with the rest of the top-ten list mostly filled by European cities: Zurich is in second place, with Munich (4), Dusseldorf (6), Frankfurt (7), Geneva (8), Copenhagen (9), and Basel, a newcomer to the list, in 10th place. The only non-European cities in the top ten are Auckland (3) and Vancouver (5). The highest ranking cities in Asia and Latin America are Singapore (25) and Montevideo (79), respectively.
Mercer's survey also includes a city infrastructure ranking that assesses each city's supply of electricity, drinking water, telephone and mail services, and public transportation as well as traffic congestion and the range of international flights available from local airports. Singapore tops the city infrastructure ranking, followed by Frankfurt and Munich both in 2nd place. Baghdad (230) and Port au Prince (231) rank last for city infrastructure.
Europe
Even with political and economic turbulence, Western European cities continue to enjoy some of the highest quality of living worldwide. Still in the top spot, Vienna is followed by Zurich (2), Munich (4), Dusseldorf (6), Frankfurt (7), Geneva (8), Copenhagen (9), and a newcomer to the list, Basel (10). In 69th place, Prague is the highest ranking city in Central and Eastern Europe, followed by Ljubljana (76) and Budapest (78). Most European cities remained stable in the ranking, with the exception of Brussels (27), dropping six places because of terrorism-related security issues, and Rome (57), down four places due to its waste-removal issues. Finally, Istanbul fell from 122nd to 133rd place as a result of the severe political turmoil in Turkey during the past year. The lowest ranking cities in Europe are St. Petersburg and Tirana (both ranked 176), along with Minsk (189).
Kiev is only Ukrainian city in the list and ranks 174th place.
Ukraine's capital also ranks 189th in Mercer's Quality of Living Index, the part which ranks the safest cities to live and work in, because of civil unrest and its pugilistic relationship with Russia.