Heathrow unveils world's most connected mirror
Today, Heathrow's Terminal 5 opened its new Personal Shopping Lounge, unveiling the World's Most Connected Mirror. As the appetite for sharing and feedback via social media networks continues to grow, Heathrow has responded by enabling visitors to connect with their friends on social media to get immediate feedback on desired purchases as they shop.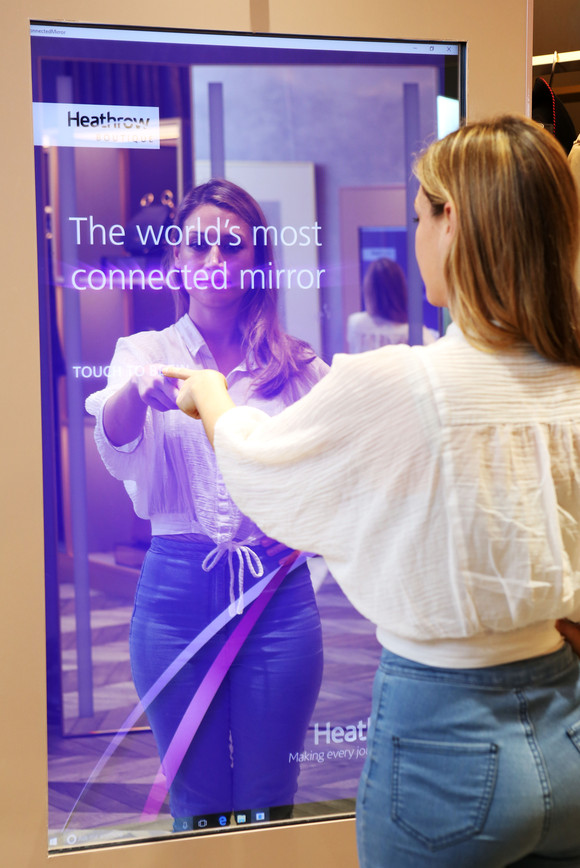 Passengers who book the complementary Personal Shopping service can post photos and stream live videos from the mirror in the new lounge in Terminal 5, showing their chosen items to their social community, with likes and comments appearing in the mirror's reflection in real-time.
The launch comes as research reveals 60% of Brits that received encouragement from their online community are more satisfied with their purchase. 40% of people surveyed also say their partner's opinion is the one they value most and men are more than twice as likely (56%) to listen to their other halves than women. Interestingly, men are also twice as likely to think their boss would be the best person to choose an item of clothing for them.
Sharon Daley, Head of Personal Shopping at Heathrow, said: "Our customers' expectations of their shopping experience are continuously evolving. Now, they not only seek the professional support of our Personal Shoppers, but also the support of their social community too. From today, our passengers can enjoy the experience of shopping over 400 brands in the comfort of the private space and share the experience with their friends across the globe, too."
The launch of the new Personal Shopping Lounge in Terminal 5 follows on from the success of Heathrow's Personal Shopping service, which launched in 2014. Since launch, over one million passengers have used the free service. The bespoke Personal Shopping service is complementary and available for all passengers, complete with free Champagne, allowing shoppers to choose items from over 400 stores from across Heathrow, including Louis Vuitton, Chanel, Burberry, Zara and John Lewis.
Passengers can book the free service online with of 24 personal stylists who speak 14 languages between them. Following a brief from the client, stylists at Heathrow will pull together a bespoke selection ready for the passenger's visit to the lounge.
Terminal 5 is home to 23 fashion and luxury brands cementing Heathrow's reputation as the home of International fashion. Customers across the globe have voted Heathrow as the "World's Best Airport for Shopping" seven years in a row.