Ukrainian Busines Marathon will take place on 18-19 February 2017 in Complex "Arena Lviv".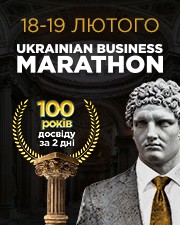 Ukrainian Business Marathon will be held in Lviv for the first time. This is the business event of the new format, which will allow business owners, entrepreneurs, top managers, investors, and other participants to adopt the a century of experience of leading experts and improve their own business.
Top speakers: Mykola Sapsan, Igor Graf, Renata Chuchmay, Evgeny Vasilenko and Volodymyr Polishchuk.