International Exhibition of Gifts & Household Goods will be held in Kiev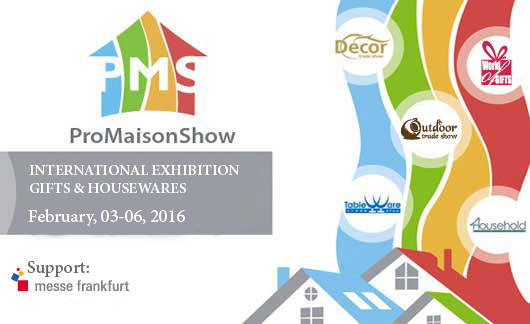 Nearly 120 leading manufacturers and suppliers will present a new items of gifts and souvenirs, the latest collections of fashion accessories, jewelery and bijouterie, and a wide range of decorative textiles, interior items, tableware, kitchen accessories and products for household purposes.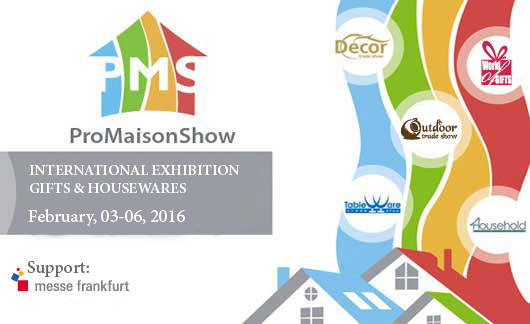 The exhibition will be attended by leading native and foreign enterprises: Apolena, Art Glass Studio, Bohemia Sklo sro, Blue Dolphin London, Cedar in Lebanon, Devays Maker, Domio, Dovana, Desisan, Elen-Décor, EcoVista, Etoile Flora, FlowersDecor, KarMi, KRISTALL, Le Blanc, Manna Ceramics, MissOdri, Mone Studio, MySense, Nature Bijoux, SCHULZ, Villa Grazia, TM Woodville, WOW Shop, YoungPig, JSC "Amkord-Belwar", LLC "Betta", LLC "Gastromasterskaya Marmalade", Ltd. "TH" Grand Kerama", LLC "Light Group", LLC "Scorpio", LLC "Tiger", PC "Dіalog-ІF", LLC "Performers", LLC "PMB GAS, "PC "MAN ", LLC "PSK Sofia", TTM "Beauty", LLC "Felicita 2001", LLC "Ivman", LLC "Ibermix", LLC "Yuvig", Skripak VV; factories: LLC "Talco-Metal-Posud", Ltd "Consensus"; company: "Umbrella Street & Umbrella Odessa", "Zamorskie Podarki", "Kameo-bis Ukraina", "Slavic gift", "Skifskaya Ethnica", "Posud De Luxe", "Souvenir Prestige", "Workshop Stained Glass "Modern", "Mahaon Ukraine", "Maxus Plus", "Medex" and others.
Traditionally, the exposition of gifts and household goods complement the specialized salon  Handmade. The best masters of handicrafts, decorative arts and crafts represent a broad audience unique and exclusive copyright products. Among the participants of the salon: Goncharuk Lydia, Goncharenko Tamara, Dalinina Alina, Boyko Ivan, Kushch Nataliya, Latik Veronica, Maltseva Anna, Misko Oksana, Naida Sergei, Popova Oksana, Romaniv Galina, Unitskaya Irina, Feshenko Maxim, Shemyakin Natalia, Furlet Oksana, Chernyachok Oksana. Art ceramics, paintings, stained glass, leather, wood, clay, exclusive and fashion jewelry, handmade soap, a wide range of toys and chocolate products, will present creative studio: AVT Studio, COTINI, Gappaso ceramic, Funny Hats, VOLKIVSKI, TM "Varezhka", "Shokoladka Lviv", "Lubo Dorogo", "Soap stories" family workshop of toys "Nyashechki", "Chudesina", TM "Grany Vkusa".
The exhibition is accompanied by a comprehensive business program, which will be held in the framework of the open workshops, lectures, seminar and master classes.
The International Exhibition of Gifts & Household Goods will take place in the International Exhibition Center in Kiev from 03 to 06 February 2016.