Ukraine and Uzbekistan to discuss possibility of resuming regular Tashkent – Kyiv flights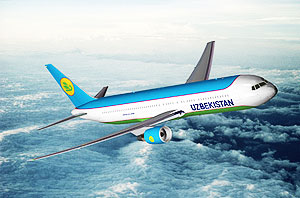 The aviation authorities of Uzbekistan and Ukraine plan to hold talks in Tashkent on the resumption of regular flights on the Tashkent-Kyiv-Tashkent route, the press service of Uzbekistan's Embassy in Ukraine told Interfax-Ukraine.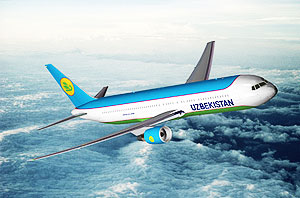 Uzbekistan's Ambassador to Ukraine Alisher Abdualiyev noted that the last Tashkent-Kyiv-Tashkent flight was conducted in May 2015.
"Since then we have not had regular flights on this route, which affected the volume of mutual trade and the development of international tourism. As we can see, the lack of air communication between the two capitals leads to the loss of potential revenues for the both sides. At the same time, air carriers of third countries get additional advantage in this situation," the ambassador said.
According to Abdualiyev, as the result of the meetings held in the Cabinet of Ministers of Ukraine and the State Aviation Service of Ukraine, the negotiations between the aviation authorities of the two countries have been scheduled for the beginning of 2017 in Tashkent.
"It is too early to speak about any results, there are a number of unresolved issues, but there is a hope that the parties will soon find a compromise that takes into account, first of all, needs and interests of the civilian population, as well as business circles of the two countries," the ambassador said.
In 2013, Uzbekistan Airways, the national airline of Uzbekistan, planned to stop regular flights on the Tashkent-Kyiv-Tashkent route. It explained that the reason for the flight cancellation could be a conflict with UIA, which it said was exerting pressure on its Uzbek partners, involving the aviation authorities and diplomats in order to get specific slots (permits to fly on certain days and certain time) of Tashkent International Airport. UIA denied this, saying that it was ready for cooperation.
In mid 2014, Uzbekistan Airways and UIA agreed to enter into an interline agreement on mutual recognition of traffic documents, as well as a code-sharing agreement (joint operation of the same flight).
In May 2015, Uzbekistan Airways again temporarily suspended Tashkent-Kyiv-Tashkent flights in the absence of the agreement between the aviation authorities of Uzbekistan and Ukraine concerning the operation of the agreed services.
Later, the then Minister of Infrastructure of Ukraine, Andriy Pyvovarsky, expressed hope that the issue of flights on the Kyiv-Tashkent route will be resolved.
In September 2015, Uzbekistan Airways closed its office in Kyiv.
Source: Interfax