UIA upgrades the Unaccompanied Minors service
The Unaccompanied Minors option is available on all UIA flights, including transit (connecting) services. July 4, 2016, UIA lowered the fees and currently offers clients to purchase the service for 20, 60*, and 85 euro for minors traveling on domestic, medium-haul, and long-haul flights respectively. Moreover, onboard meals for accompanied minors are included in the fee.
To book the Unaccompanied Minors service for children between 5 and 17 years of age, a client needs to contact a UIA ticket office, the carrier`s Contact Center, or purchase the option at the airport of departure. Unaccompanied Minors fee should be paid for passengers under 16 traveling on international flights, and passengers under 14 traveling on domestic flights.
In case two unaccompanied minors travel on UIA international flights via Kiev and have a single booking, UIA will charge the Unaccompanied Minors fee for the first child and provide the other one with analogous service free of charge.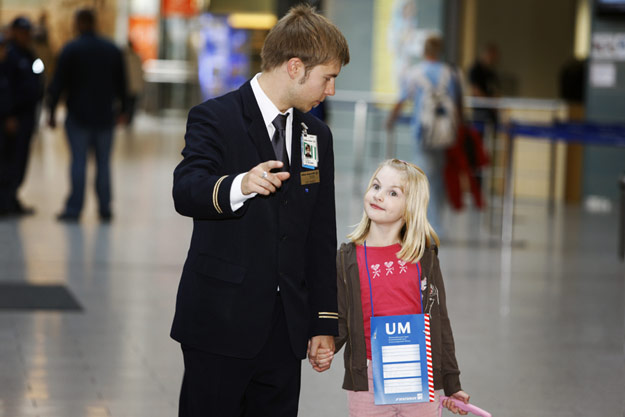 Panorama Club members can use their bonus miles to purchase the Unaccompanied Minors service at a UIA ticket office or the carrier`s Contact Center at least 24 hours prior to scheduled departure. Unaccompanied minors get Panorama Club miles for both the trip and ancillary services, such as Unaccompanied Minors, Pre-paid Baggage, etc.
"The Unaccompanied Minors service is popular with both parents and guardians, as well as funds, colleges, and embassies in case there`s a need to carry any underage supervisees, – noted Evgeniya Satska, UIA Corporate Press secretary. – Despite the fact that a number of airlines ceased to offer carriage for unaccompanied minors, UIA not only upgraded the service but also lowered the fees. Those seeing off an unaccompanied minor can hand the underage traveler over to the UIA staff who will take good care of his/her safety and comfort on board, as well at the airports of departure, transit, and arrival".
UIA carries no more than 20 unaccompanied minors on the same flight. Therefore, clients are recommended to book the Unaccompanied Minors service well in advance.