Turkish Airlines has revealed a series of on-ground and inflight experiences for their passengers during this summer's UEFA EURO 2016TM. Passengers travelling with the championship's Official Airline Partner will be able to watch live matches on-board and in lounges, while some will have the chance to win tickets to the tournament during their flight.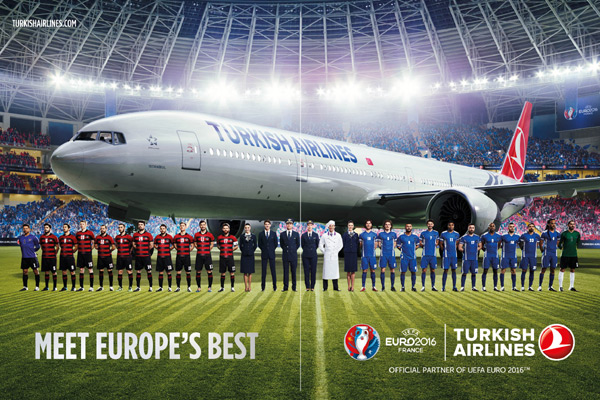 Turkish Airlines takes an active interest in Europe's sporting and cultural events. To excite fans before and during the championship, the airline will be providing passengers with unique experiences to allow them to enjoy UEFA EURO 2016TM, whether on ground or in the sky.
International passengers flying on Turkish Airlines' fleet of widebody aircraft – Boeing 777s and Airbus A330s— will be able to stream matches live onto their screens. Meanwhile, passengers in Turkish Airlines' lounges across Turkey will also be able to watch the competition in their pre-flight comfort. Additionally, those in the airline's award-winning business class lounge in Istanbul will be able to play the official EURO 2016 console game, which will be synchronized to reflect the tournament's results.
Turkish Airlines' Chief Marketing Officer (CMO), Ahmet Olmuştur said: "Upgrading our passengers' experience is at the heart of everything we do at Turkish Airlines and our partnership with UEFA EURO 2016 TM gives us another great opportunity to do just this. Whether at the airport or at 37,000 feet, we will help unleash the fan passion in all our passengers by allowing them to experience the joy of the tournament, no matter where they are."
These initiatives will be complimented by a specially designed menu card for Turkish Airlines passengers departing Istanbul's Ataturk Airport. Those flying on select flights to France during the tournament will also have the chance to win tickets to UEFA EURO 2016 TM matches via an onboard raffle competition.
The carrier has also partnered with the global football network, Copa90, to discover what football means to fans across the UEFA EURO 2016 TM nations. In advance of the tournament, Copa90 and Turkish Airlines will explore different cultures, experiences and passions of football fans from 10 countries in 10 days. Fans can follow the journeys undertaken by four selected filmmakers and social creators on the Meet Europe's Best microsite (MeetEuropesBest.com) and Turkish Airlines' social channels.