A festive favourite at any Christmas market, glühwein is a staple of the holiday season all over Europe. But despite its popularity, the history of glühwein isn't as well known as the drink itself. Pour yourself a hot steaming mug, grab a mince pie, and enjoy, as we chart the origins of everyone's favourite Christmas tipple.
Before we begin, though, let's take a closer look at what glühwein actually is.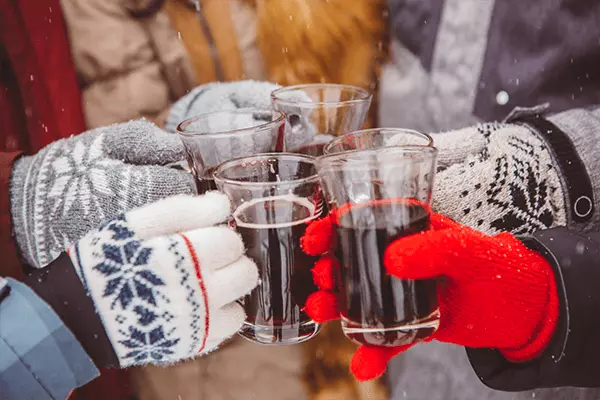 What is glühwein?
Glühwein is a warm, spiced drink—traditionally made with red wine, spices, oranges, and sugar—served at Christmas time. It's literal translation into English is 'glow wine,' which is rather fitting given that you'll more than likely feel a warm glow after enjoying a mug or two.
Finding the right balance when it comes to heat is what can make or break a brew of glühwein. With the wine and all the ingredients added into a container, it's important to heat the mixture slowly over a medium flame, stirring the contents so that the spices can fully infuse the red wine. Once the drink starts to bubble, the heat is reduced to a simmer so that the delicious beverage doesn't boil over and take on a bitter taste.
Is glühwein the same as mulled wine?
Glühwein is simply the German term for mulled wine. Some may say that mulled wine is sweeter or that glühwein is spicier, but there's no real basis for that argument, as there are so many different recipe variations. It all depends on the types of ingredients the brewer adds and in what ratio.
The reason why English-speaking countries refer to glühwein as mulled wine is due to the definition of 'mull', which means to heat, sweeten, and flavour with spices. Mulled cider and mulled brandy are also popular festive drinks that are made using the same methods.
In contrast, glühwein gets its name from the glow of the red-hot irons that were originally used to warm the wine.
The history of glühwein
While glühwein is mostly associated with Germany, its actual origins are disputed, with credit going to either the Greeks or the Romans (depending on which version of history you believe).
When it came to harvest time in ancient Greece, there was usually a portion of wine that didn't make the grade. In order to stop any alcohol going to waste, spices were added to the low-quality wine and then heated to create a new drink.
The Greek spiced wine was called 'hippocras', supposedly after the Hippocrates—the Father of Medicine. However, it isn't believed that he had anything to do with the drink's creation and it was simply a name given to the brew years later (though a very apt name given how it was believed to contain medicinal properties).
The earliest record of the ancient Romans drinking glühwein goes back to 2 AD, and it's said that they drank it to stave off the effects of the cold. As the Romans conquered their way across Europe over the next century, they brought their love of heated wine with them, which explains how they became seen as the drink's originators.
The next important chapter in the history of glühwein came about during the Middle Ages when glühwein soared in popularity—particularly in Germanic countries. People believed that heated wine with spices would keep them healthy. But, while cinnamon has anti-inflammatory properties and the oranges add a touch of vitamin C, it's no substitute for actual medicine. More than anything, it was just a way to make unpalatable wine taste good.
Glühwein in the sense that we know it today was first documented in 1420 in the form of a special mug belonging to the German nobleman, Count John IV of Katzenelnbogen. If that name sounds familiar, he was also the first person to mass cultivate the Riesslingen grape used to make Riesling wine. Count John IV took wine seriously, so the idea of him having a dedicated gold-plated silver tankard specifically for drinking glühwein isn't as surprising as it first sounds (and may be the reason why each Christmas market these days has their own unique mug).
As with most of our traditional ideas of a 'Merry Christmas', it can be argued that Charles Dickens and A Christmas Carol is why we associate the festive season with glühwein (alongside many other tropes such as gift-giving and a turkey dinner). Towards the end of the novella, Ebeneezer Scrooge tells Bob Cratchit that they'll discuss the new terms of his employment 'over a Christmas bowl of Smoking Bishop'—a mulled wine recipe that was popular during Victorian England.
Most modern film adaptations (and some printed editions) replace 'Smoking Bishop' with the term 'hot punch', due to few too people knowing what Smoking Bishop is these days, but the idea of enjoying a warm, spiced wine over the festive season certainly stuck once it was immortalised in the most well-known Christmas story of all time.
Today, German Christmas markets can be attributed with the continued love for mulled wine worldwide. The first incarnation of the German markets can be traced back to 1434, though it's believed to be an even longer lasting tradition. And, while it's unclear if the markets were opened specifically for Christmas or whether it was just a coincidence, glühwein became a staple during the winter bazaars.
Why? Because the Romans had the right idea nearly 2,000 years ago; it was simply a great drink for keeping people warm.
While exploring the Christmas markets of Europe you'll notice hundreds of people with a mug of glühwein in hand as they wander through the stalls. The festive tipple adds to the yuletide cheer, and of course, some market visitors can't resist keeping their mug and adding it to their collection (it's no wonder stall owners often ask for a deposit for the mugs).