Hard Rock International to open its third European resort
Hard Rock International announces plans to open its third European resort, following debuts in Ibiza and Tenerife. Projected to open in 2020, the seafront Hard Rock Hotel Malta will feature 370 rooms, including 110 suites offering balcony views. The upcoming project will be part of a new mix-used development called db City Centre, which includes a shopping mall, luxury residences and modern office spaces, in the highly sought after area of St. George's Bay, St. Julian's. Hard Rock Hotel Malta is being developed in collaboration with the Malta-based Seabank Group, a partner of Hard Rock for more than 15 years.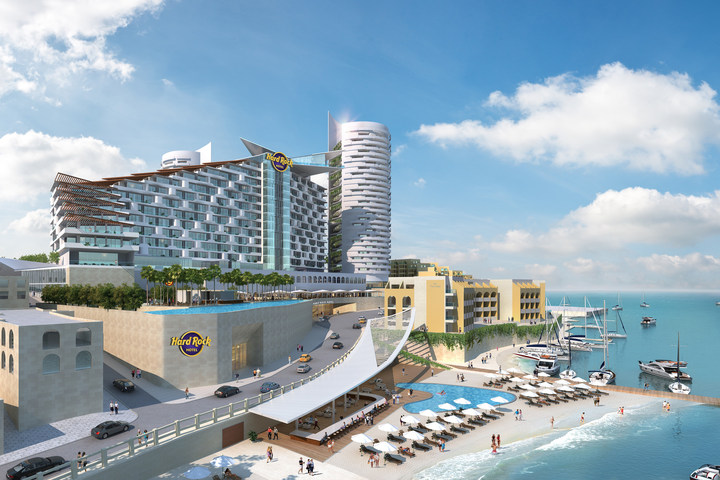 "Seabank is recognized as one of the most established hospitality companies on the island with more than 30 years of experience, which includes the ongoing management of Malta's existing Hard Rock Cafes," says Marco Roca, executive vice president of global hotel development at Hard Rock International. "Malta draws in travelers from around the world given its central Mediterranean location, idyllic charm, rich cultural history and vast array of activities – from scuba diving to exploring prehistoric temples – and we are thrilled to be part of a project that will provide travelers and locals with the country's first true entertainment destination."
The upcoming Hard Rock Hotel Malta will pay homage to the 19th century British military accommodation quarters building which will be a key feature of the project's design and layout. Prior to opening, the historic site will be restored to its original glory.
"In the past few years we've seen Malta's tourism sector on a steady rise, with the destination reporting nearly two million visitors in 2016," says Arthur Gauci, chief executive officer of Seabank Group. "As the world takes notice and Maltese tourism booms, we're thrilled to work with Hard Rock to bring an upscale and never-before-seen experience to the island."
Catering to the unique needs of international business and leisure travelers, Hard Rock Hotel Malta will have no shortage of amenities to offer. The hotel will host various high-end food and beverage establishments, including a multi-course signature restaurant and a rooftop lounge complete with Skybar. Guests seeking to relax and retune will enjoy numerous pools and the 16,000 square feet full-service Rock Spa, as well as the state-of-the-art Body Rock fitness center. The upcoming project is set to also host a broad range of events and groups with more than 37,000 square feet of planned function space, including the largest convention center on the island. From conception to completion, the project is expected to generate 1,500 new direct jobs, and an even higher number of indirect employment opportunities.