Top 10 Trending Winter Destinations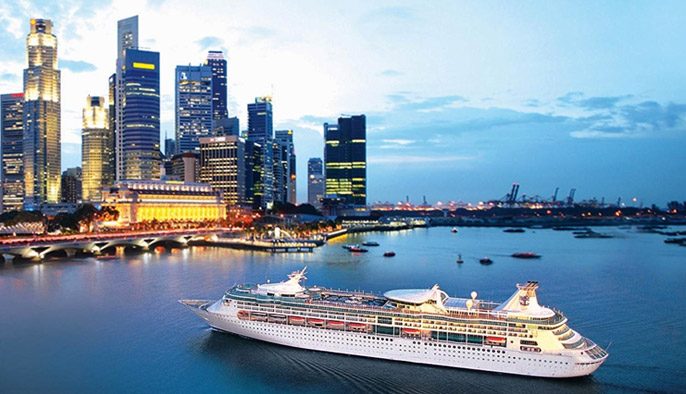 KAYAK.co.uk's new Winter Escape Formula shows the overall costs for a week-long holiday, from airfares and hotel, to local drinks and transport, so Brits know where to go to seek the sun for less.
Now summer is over, many Brits will be turning their attention to where to go for some sun this winter. To help, the travel search engine KAYAK.co.uk has analysed its data and collected it into a Winter Escape Formula. The formula includes flights, 3-4 star hotel accommodation, food, drinks, and public transport, to reveal the overall cost of the best getaways for some winter sun this year.
Flight searches to Singapore have increased by 93% this winter compared to last winter, making it the top trending destination – but it's not the cheapest holiday option with overall costs around £1,429. For a similar-length flight, Brits can have a cheaper stay in the second top trending city of Ho Chi Minh in Vietnam. While average flight prices are higher, hotel accommodation is less than half the price, and all expenses are around one third of the price.
While 58% more travellers are searching for flights to the Maldives this year compared to last, they'll be shelling out a fair amount for this stunning destination, with total costs coming in around £1,718, largely thanks to high hotel prices. Ho Chi Minh City is the cheapest overall of the trending destinations at an average of £947 for a full week, and even further away, three destinations in Australasia complete the top trending list – Auckland, Brisbane and Adelaide.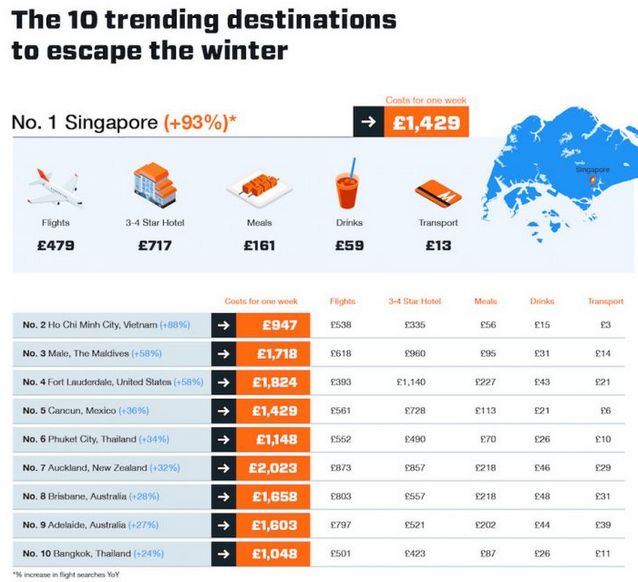 John-Lee Saez, Managing Director for KAYAK Europe, says: "An escape from winter doesn't have to cost a fortune or many hours of travel, and it's great to see that for British travellers, basic costs for a full week's holiday in the Malaysian sun can come in at under £950. We know that no one likes a nasty surprise when budgeting for their holiday, which is why we've put together this seasonal formula. Plus, to help our users be confident when planning their travel to any destination at any time of year, we've also just launched an extension of our popular Explore feature – Explore More – which gives an overview of flights, hotels, and living costs, so travellers can choose the best option to suit their holiday budget."
Comments Off

on Top 10 Trending Winter Destinations