Sharjah hosts Ukranian delegation to woo tourists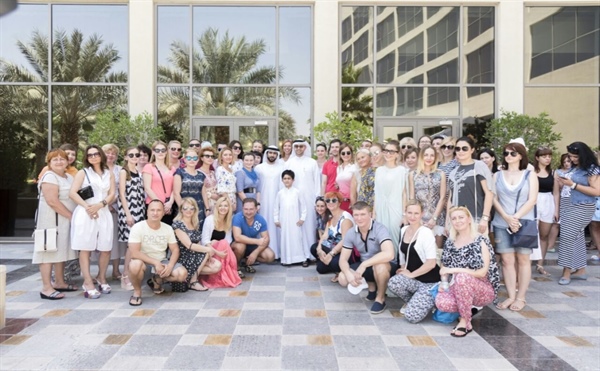 Sharjah Commerce and Tourism Development Authority (SCTDA) hosted a group of 100 top travel agents and a TV crew from Ukraine, who were flown in by Air Arabia to spend four days in the Emirate of Sharjah. The local tourism stakeholders were given an opportunity to meet the group and present their products and services at a workshop in the Radisson Blu Sharjah. The workshop aimed to highlight the diverse tourism experience offered by the emirate for Ukrainian visitors.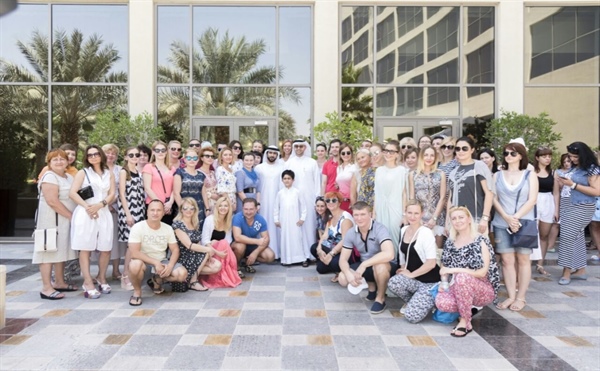 "Sharjah has successfully positioned itself as a family destination, which is supported by the safe welcoming environment, beautiful beaches and realistically priced attractions. As the cultural capital of the Arab region, Sharjah offers an authentic Arabian atmosphere through a diverse tourism product that ranges from culture and heritage to beautiful nature, entertainment and shopping. The emirate offers a safe and secure family friendly atmosphere. Recent strategic research shows that the outbound Ukrainian tourism is continuing to grow steadily suggesting a market opportunity. With Air Arabia flying direct from there and bulk airline seat sales with TPG, one of the largest outbound operators, we felt that there was substantial opportunity to leverage," said His Excellency Khalid Jasim Al Midfa, Chairman of SCTDA.
"The event has been really well received and it has been a pleasure to partner with Arabian Explorers, TPG and Air Arabia, along with the many hotels and attractions that have all supported us in this initiative. We are confident that with our consolidated B2B marketing in Ukraine over the coming months, this event will be the catalyst of growth from this region in the coming years," HE Al Midfa added.
During the workshop, Ahmed Obaid Al Qaseer, COO of Sharjah Investment and Development Authority (Shurooq), offered an overview of major tourist locations developed by Shurooq such as Al Noor Island, Mleiha Archaeological and Eco-tourism project, Kalba Eco-tourism project, Al Majaz Waterfront, Heart of Sharjah, and Al Qasba. Khulood Al Hooli, Manager of Al Hisn Museum, spoke about the facilities provided by museums in Sharjah. Maitha Al Balooshi from Environment and Protected Areas Authority (EPAA) gave a briefing on six learning centres of EPAA related to the desert environment and wildlife. A presentation by Air Arabia highlighted the Sharjah-based airline's three weekly flights from Sharjah to Ukraine.
Recent statistics indicate that in addition to traditional warm and seaside destinations, more Ukrainians are choosing countries where it is possible for them to supplement time on the beach with other activities, such as cultural and sporting events as well as shopping and recreation. Moreover, Ukrainians who have travelled to Asia and Europe in the past are willing to explore new locations.
Outbound tourism from Ukraine has steadily risen in recent years, and Sharjah has been witnessing heightened visitor interest from the country. Reflecting the bright prospects, Ukrainian tour operator TPG is expecting nearly 2,000 travellers to Sharjah each month throughout the summer this year. Sharjah's tourism links with Ukraine is further strengthened by the direct air connectivity offered by Air Arabia from the Ukrainian capital Kiev and the cities of Donetsk and Odessa.
Sharjah's hotels and hotel apartments received 5,742 guests from Ukraine with 19,254 guest nights so far this year which is encouraging considering that the emirate received a total of 14,720 guests from the country and a total 46,366 guest nights in 2015.
The workshop, one of the biggest promotional events organised by the Authority this year, offered a major opportunity for tour operators from Ukraine to meet representatives from key tourism and hospitality entities in Sharjah and explore possibilities of joint cooperation as well as exchange experiences.
During the last five years – from 2011 to 2015 – Sharjah received over 9 million hotel guests from countries around the world, reflecting the stability and strength of its tourism sector. The emirate has launched a number of new tourism developments such as the AED 80 million Al Noor Island project in Sharjah's Khalid Lagoon as well as major initiatives in the eco-tourism sector, including the 25,000 hectare Mleiha project, the Wasit Nature Reserve and the Al Hefaiyah Mountain Conservation Centre.