Reikartz opened in Chernihiv
July 5, 2017 was the grand opening of a new hotel of European level "Reikartz Chernihiv". The event was visited by the Mayor of Chernihiv, Atroshenko Vladyslav Anatolievych.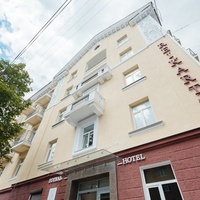 The red ribbon at the entrance to the hotel was cut by the Mayor and the executive director of the National chain of hotels Reikartz Sebastian Kremer.
Atroshenko Vladyslav Anatolievych noted that the opening of a European-level hotel in Chernihiv is a significant contribution to the development of the tourist potential and infrastructure of the city.
Hotel "Reikartz Chernihiv" is located in the business and historical center of the city on Getmana Polubotka street, 22. The hotel has 49 rooms. Next year more 20 rooms will be put into operation on the 5th floor, thus the number of rooms will be 69 rooms. The hotel infrastructure includes two conference halls for 85 and 65 seats, a lobby bar. In addition to the hotel, the Reikartz company opens in Chernihiv a Czech-German pub "Zivot a Pivo" and a Scandinavian cafe "Fika". It is planned to create parking.
"Chernihiv occupies an important place in the national economy and tourism, – comments Sebastian Kremer, CEO of Reikartz, – so we chose Chernihiv for the opening of the new Reikartz hotel. Moreover, we are ready to call the hotel "Reikartz Chernihiv" as one of the flagship facilities of the chain. "
Today, Reikartz Hotel Group unites 39 hotels, 33 of them in Ukraine, and 6 hotels abroad in Kazakhstan, Germany and Sweden.