A new report by online travel company weloveholidays ranks and reveals Europe's most coveted wine countries.
From Tuscany's rolling hills to Bordeaux's enchanting vineyards, Europe has an extraordinary wine culture that will captivate your senses and leave you yearning for more. Each year, around 30 million wine tourists visit Europe each year, and the wine tourism industry is expected to triple in size by 2030.
With wine tourism is on the rise, online travel company weloveholidays has conducted a study to reveal the best places to visit for wine enthusiasts.
By looking at factors like vineyard surface area, wine consumption, wine production, grape production, Vivino listings, DWWA awards and the number of wine festivals, 37 wine countries were ranked against each other, with Italy, France, and Spain taking the top spots.
Top 15 wine countries for wine lovers: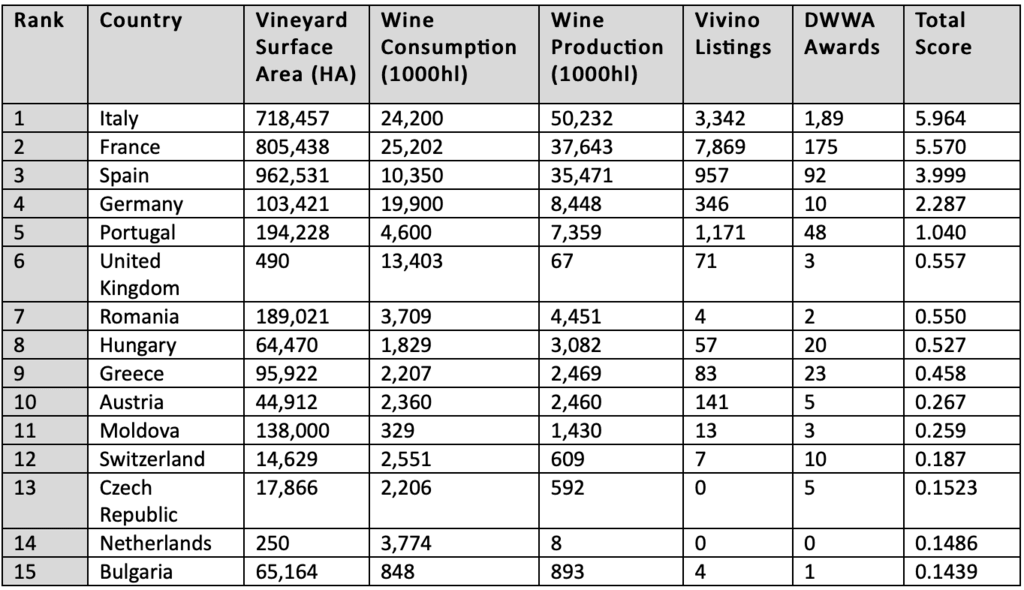 Italy takes the first place prize, with a truly varied tapestry of wine regions – not to mention, the biggest wine output in our ranking and five wine festivals to enjoy! Each Italian region has its own distinct characteristics, terroir, and grape varieties. From the rolling hills of Tuscany – home of the iconic Chianti and Brunello di Montalcino – to the vineyards of Piedmont, known for the elegant Barolo and Barbaresco wines.
Spain comes second in our ranking, and claims the largest total surface area of vineyards out of any country in our ranking. Spanish winemaking combines ancient vineyards and modern techniques to create wines from the vibrant Crianza to the complex and age-worthy Gran Reserva – Rioja wines are a glimpse into the heart and soul of Spain.
And of course, no wine lover's adventure would be complete without a visit to Bordeaux in France, which placed third in our ranking. Known for producing some of the world's finest red wines, Bordeaux is a treasure trove of flavours, including the iconic Cabernet Sauvignon and Merlot blends. Between the delicious wines and the historical heritage of the châteaux dotted across the countryside, France is definitely a land of winemaking legends.
Other regions in the top 15 include Germany (4) with its famous wine region of Mosel, a haven for Riesling lovers, and Portugal (5) with its stunning mosaic-terraced vineyards in Douro Valley.
Europe's wine regions are a testament to the continent's rich cultural heritage and dedication to the art of winemaking. Let the symphony of flavours, aromas, and terroirs transport you to a world where grapes come alive and the love for wine flows freely.